Local Accord serves it up for the Salvos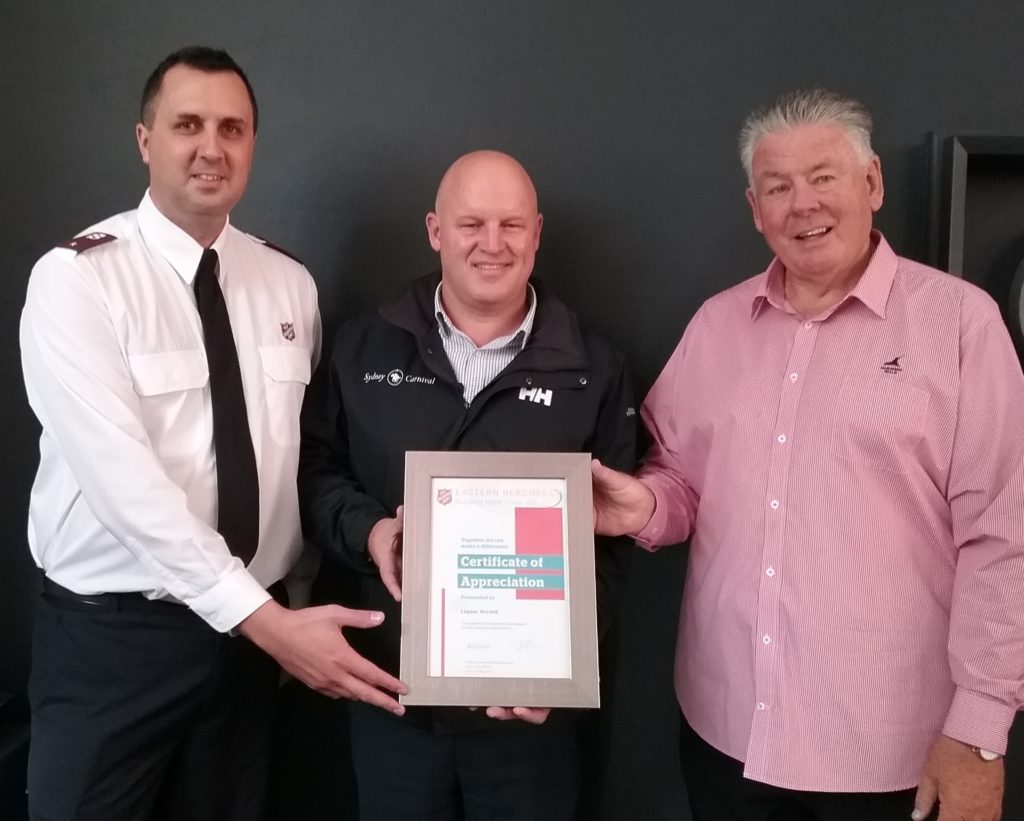 Serving 11,000 meals per year to the socially isolated, disadvantaged and homeless just became a lot easier for the Maroubra Salvation Army, thanks to the generosity of the Eastern Beaches Liquor Accord.
The Salvation Army Maroubra provides a range of welfare services but were struggling with outdated and inadequate cooking facilities to prepare and serve their weekly meals to meet an ever-growing need in the local community.
"It was an absolute blessing to receive the surprise call from the Liquor Accord offering us a $5000 donation to upgrade our kitchen facilities," Matthew Gluyas, Eastern Beaches Salvation Army Corps Leader said. "The funds have significantly improved our amenities so we can look to further expanding our services."
The Eastern Beaches Liquor Accord has a stellar reputation for supporting their local community with funds directed to a number of groups over many years, including the La Perouse School Breakfast Club and the local PCYC, but this donation has particular significance.
"Our members are keenly aware of the growing issue of social isolation and homelessness in our community and the problems this leads to," Peter Reid, President Eastern Beaches Liquor Accord said. "The Salvation Army is doing a fantastic job to provide much needed services to these people and our members were unanimously in favour of supporting their work."
Minister for Racing Paul Toole congratulated the accord on the donation, saying it's a great example of how liquor accords are supporting their local communities.
"This donation will greatly benefit Maroubra Salvos in the wonderful work they do helping homeless, disadvantaged and socially isolated people," Mr Toole said.
"Liquor accords play a key role in the NSW Government's approach to liquor regulation. They represent a true collaboration between licensed venues, police, Liquor & Gaming NSW and local communities. As I travel around NSW, I'm constantly impressed by the great work local liquor accords do in supporting the communities they serve."
Matthew Gluyas said the bulk of the funds have been spent on a commercial quality dishwasher and refrigerator which have been game-changers and they hope to raise additional funds in the near future to completely makeover their kitchen area into an open plan space for both meal preparation and as a warm and friendly hub for locals to come and share time together.
Peter Reid said his members were also donating other items to the Salvos to further assist as the accord is fully committed to continuing support for the local community in the hope that its efforts make a difference to individuals struggling with social issues and he encouraged other local businesses to do the same.
The Accord is proudly supporting the work of the Maroubra LAC Youth Liaison Officers at La Perouse Public School with a major annual donation, which fully funds the 'La Perouse Breakfast Club'